If you know me I have told you about the
Hypnotic Brass Ensemble
and my intense love for them.
Well, they're touring the UK this month - Honest Johns Chop up at the Barbican Saturday with Tony Allen, Cheik Lo & more...(there are still tickets left people?!), and here's the rest:
Wednesday 16th July - Durham - Gala Theatre
Thursday 17th July - Leeds - The Wardrobe
Friday 18th July - London - The Albany
Saturday 19th July - Bristol - Fiddlers
Sunday 20th July - Birmingham - Rainbow Pub
Tuesday 22nd July - London - ICA
I've bought my tickets for the ICA, get yours
here
£10 and cheap at the price.
Thing is...not only are Hypnotic Brass Ensemble playing London -
The Hot 8 Brass Band
are too!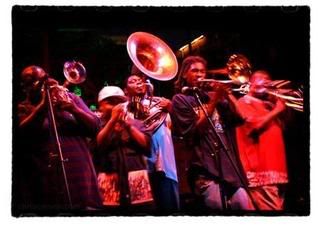 If you don't know about them, well, neither did I until Rich Medina played their awesome version of Sexual Healing at Deviation last night (get it
here
). I thought it was HBE - and I think I could be forgiven - of course HBE have one more member but similar feel, HBE are from Chicago & Hot 8 from New Orleans. (Nerd alert!) Now, the idea there are two big hip hop brass bands out there to me is only a good thing - I don't want to listen to music without horns if I can help it so this is great news! Hot 8 are playing Cargo on Thursday 31st July - get your tickets
here
Come dance and get that face on. That face you only get when you're dancing to something with bad ass horns on it, the darkdeepdancelikeyourAfricandadwhenhelistensto FelaorLucianoandhethinkshe'sabadman face. Yeah you know the one, even if you don't have an African dad.