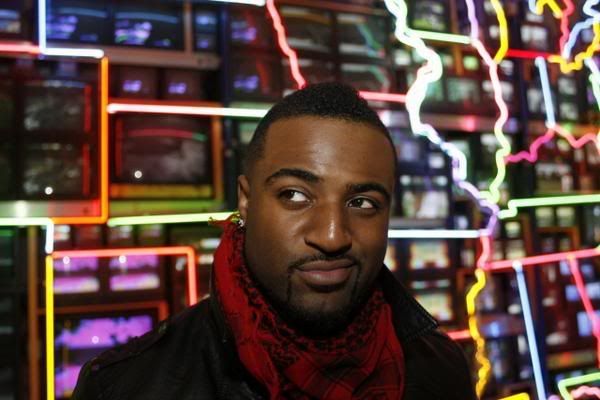 KILOWATT, the hotly anticipated new album by
OlivierDaySoul
is released today and Put Me On It caught up with him for an exclusive interview...
Where does the name OlivierDaySoul come from?
Well it started off as Daytona Soul originally. I was toying around with the idea of pairing smooth with a rough edge, however I didn't want it to be like sexual smooth with a bit of thug. Nothing D'angelo-eque. (There can be only one anyways!). I also wanted it to have a bit more of a futuristic ring to it. I kinda like Formula 1; you know those cars are the hallmark of all the advanced technology that goes in to every fast flash car on the market. That's when Daytona popped up. Close music affiliates and family of mine kept ringin' in my ear that I should keep my name - Olivier St Louis. I thought otherwise however because it was too smooth and too 'Francois' for me. That wasn't the kind of music I was making at the time (I was producing as well as singing). Then one evening during a studio session someone came up with the idea to fuse both names. A hybrid of my birth name and my stage name... and OLIVIERDAYSOUL was born. It hit me like a ton a bricks. I've stuck with it ever since.
You have a really interesting background - Haitian & Cameroonian parents, raised in DC, went to boarding school in England & ended up at Oxford University! How did your heritage & upbringing influence you and your music?
That's a good question. I guess I'd always loved and been surrounded various genres of music. My mother had a couple of Hatian and zook records at home that she used to play, but it was her Sister Sledge, The Brothers Johnson and Anita Baker records that got me singing. Music really became important when I got to boarding school though. I was still quite young at the time and that soothed me best being away from home for so long. Boarding school was also where I got the freedom to hear the parental advisory stuff I knew I couldn't listen to at home. That was a real growing period for me because between being in an international setting and studying in Europe where there is such an open mind to different genre's of music, I was hearing stuff I know I would have had a filter on if I was hearing it at home. The setting I was around before school in the U.K. normally glorified hip hop and RnB was the music to listen to. Things like house, rock, 2step, dance and garage would have been either been a firm no no or I would have never heard it. Going to University was just an extension of that exposure – that's when I picked up on stuff like Roots Manuva, Dilla, and Slum Village.
You ended up with a degree in molecular biology - what made you decide you were a singer not a scientist?
Well I was always thirsty for a career in music. I always sang. But coming from a Hatian Caribbean family where every other person is either an MD, lawyer or PhD, music as a career choice was not an option. Which is funny because so many in the family still did music as an extra-curricular. My grandmother and three of my cousins sang opera. I pretty much headed down the science route because of my parents' ambitions, I was good at the subject and I enjoyed it but it never gave the satisfaction music does.

What's your new album Kilowatt all about?
Kilowatt is about conveying feeling with an acute energy. Whatever is expressed in the music on this album vocally and lyrically I try to do with as raw a sense of interpretation as possible. With the least bit of inhibition as it were, so that it has intensity to it. Whether it's expressing feelings of sex, fun or fantasy I want to deliver it as uninhibited and as energetically as possible so you can really visualize the music and the song with almost neon colours. Everyone has the capacity to express at such intensity, it's just certain people need the jump-start to open that up. I feel this is what my album brings you. That kilowatt, that couple of joules of current you need to initiate whatever you got pent up that you just can't seem to release on your own.
A lot of people who've seen you perform live describe your style as really unique & hard to put a finger on - how would you describe your sound?
I would describe my sound as charged variation. I know this sounds weird but it seems like I generate an unbalanced balance I suppose. I like to try and give people a real wonky line to follow. So that they're heads bop but they can't put their finger on what they're listening to. I think it's great because what then happens is they have to give in and say this is Olivierdaysoul.
If we looked at your itunes most played list what would we see?
N.E.R.D.s new album Seeing Sounds, KENNA's track SAY GOOD BY TO LOVE. I love that song. Pharrell and the Yessirs Outta my mind, AVENUE TO Three Way Intersection, and Van Hunt's latest album Popular.

Some people may know about you through your work with Oddisee and the Heralds of Change Mike Slott & Hudson Mohawke - tell us a bit about your collaborations with them...
Oddisee is my man, he's like my brother from another mother. He and I are forever working on music because we often have the same mind set and approach towards music and song production. Hudson and Mike caught wind of my music when hanging with Oddisee, Unknown and Trek Life during their tour in Europe a while back. Those guys played some stuff I'd been working on and I guess it was good enough for Hudson to give me a holler. He passed me a beat and that turned in to BOPGUN. Heralds and I been cool ever since.
What are the major differences for you working as an artist in DC and the UK?
I don't know if I have quite discovered a significant difference yet. The biggest thing is the U.K. and Europe are a lot more open and supportive of new music. If something has a dope sound to it and isn't necessarily the norm, it seems like the U.K. isn't afraid to grab at it and say YO THIS IS MY ISH if you know what I mean. At home I think music may often times need to have certain reference to something to generate a head nod. Not that they're not open they just need to have a l'il bit more context to get in to it so it seems.
So where's home?
Home is both D.C. and the U.K. That was always my intention. However if we base it on where I'm from it would have to be D.C.

What's next for you?
I'm trying to do as many shows as possbile. Couple collabos could be in the pipe line too - Im talkin to Muhsinha, Tawiah, Eric Lau, Heralds of Change, Rahel, Oddisee, Morgan Spacek and some others I wont mention just yet. And I'm trying to juggle this with work on a sophmore album follow up! We'll see how it all pans out - everyone's just gonna have to stay tuned!!
I was supposed to pick my favourite 3 songs from the album for you to listen to - see side bar - but I only managed to narrow it down to my top 6 - apologies.
For you lucky readers here's a download link to Brain - the serious banger that's got us bouncin' like a pogo stiiiiick!